Why ROI Matters for Customer Service & How A Status Page Can Save Your Company Big Dollars
The IT industry is experiencing a costly challenge to provide the highest level of support while trying to manage the ever-increasing budget. The average salary of your technical staff is steadily increasing and modern IT organizations are being asked to cover a wider footprint with fewer resources. This includes providing a high level of customer service with a minimal level of support personnel, causing increased stress on your staff and increased pressure on your budget folks to staff appropriately. For this reason, customer service ROI (return on investment) is getting a lot of attention.
There are so many tools that we have at our disposal today to provide efficiencies, case management, CRM and accounting among others and it is critical that we use these tools within our organization's support strategy. However, there are budget implications with every new tool acquired and it is important that investments pay for themselves in the end. This article will discuss the challenges associated with running an IT help desk in 2017, some current support trends, salary trends and the return on investment of a hosted status page.
Tip of the Iceberg
A typical IT help desk consists of a tiered support model and your tier 1 staff is generally tasked with answering phone calls, triaging tickets and providing basic troubleshooting for your users. What many organizations do not realize is that these are the folks that set the tone for your organization. These are the people that are interacting with your customers and these customers are then drawing conclusions on your entire organization based on that interaction.
Think of your help desk as the tip of the iceberg and give them the tools they need to be successful. Make an investment into your support staff and make sure they are able to assist customers and this includes:
ITSM Case Management
Communication
Ticket Triage
Escalation Procedures
Outage Procedures
Knowledge Base
These basic tools are critical to the success of tiered support teams and are crucial for delivering high-quality service. This will ensure that when a customer contacts your help desk he or she will be greeted by confident staff with the tools needed to complete the interaction. By solving issues efficiently and communicating with your end users intelligently you will boost your company's reputation, which in turn will lead to higher levels of consumer confidence.
IT Help Desk Trends and Costs Are Increasing Each Year
According to a 2016 survey by the Help Desk Institute, the average ticket or call count is rising for surveyed organizations and the top 5 reasons were attributed to:
Number of customer
New applications / systems
Acquisitions / mergers
New equipment / devices
Scope of services offered
Rising ticket and call counts are leading to increased organizational expenditures, especially when you have an incident with one or all of your services. The HDI report survey also lists average salaries for help desk staff based their support level. On average, Tier 1 salary is $44, 545 per year, which is an hourly rate of $21.42. Employee cost will be important later in this article when we are calculating the value of a hosted status page.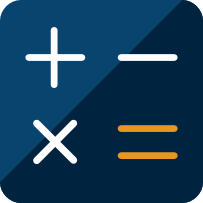 The HDI also estimates that there are 300 million help desk tickets per year and each ticket will cost an organization around $20. This is pretty significant if you think about your organization and the number of help calls you receive per year. Because you typically have a large amount of people calling at the same time during an incident or unplanned event, these average costs are further magnified.
IT Help Desk Contact Methods
Customers contact IT help desks in several different ways that have been a standard for many years and we are seeing an increase in the common support contact methods. According to the HDI survey, the top 3 contact methods are:
Phone Calls
Emails
Online Forms (Portals)
Customers are now used to visiting online portals for help which is a big change in the modern IT support chain. In turn, portals are climbing up the list. This is great for IT organizations because they do not have to spend money at the initial interaction layer of the support cycle and can focus their resources on resolving the incident or request.
Status Page Pricing
A status page is a single website that your customers can visit to get a look at the status of your services and organization. It usually lists an overall status of all of your services and then an individual status for each of your services. The status page should double as a communication tool and allow users to subscribe to receive updates. The updates are normally delivered via email, SMS, webhook or other integration methods.
Basic status page features include:
Static website
Email notifications
SMS notifications
Webhook notifications
Customer Integrations
RESTful API
Subscriptions
Service level subscriptions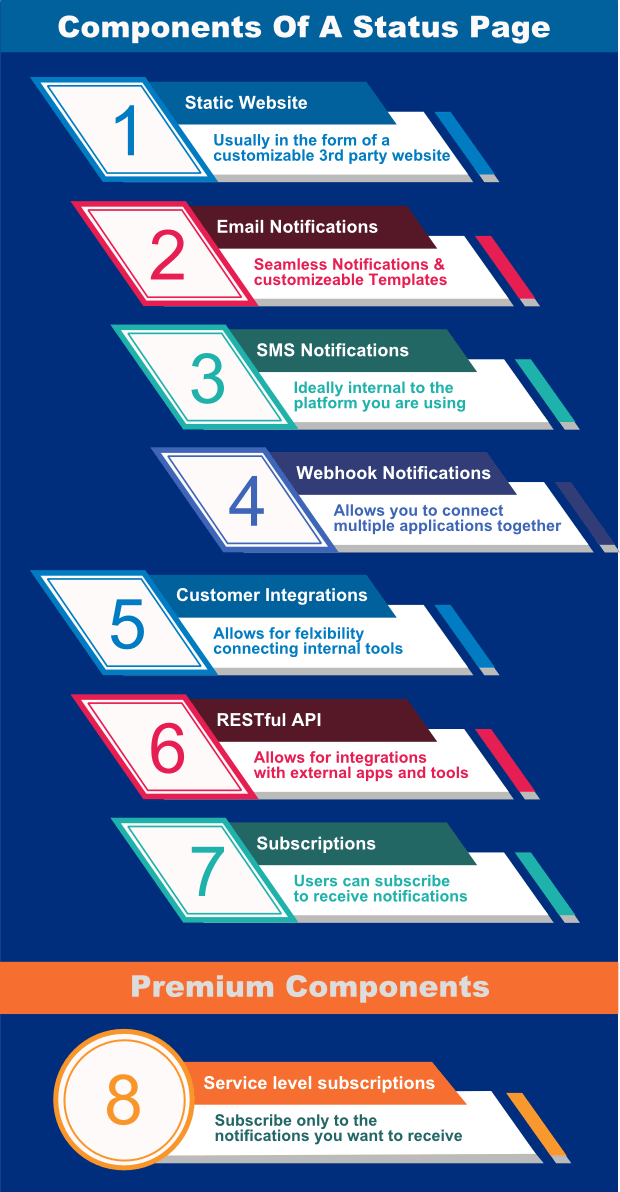 There are many basic features that every status page should have but the best solutions offer additional features. For example, users should have the ability to subscribe to specific services and only receive notifications about the services that they care about. Another thing to consider is whether or not the solution offers in-house SMS functionality or requires you to utilize a 3rd party service which can become cumbersome to integrate and add an additional cost to your status page. These are some of the features that really set hosted status page services apart from the competition.
The change from walk-in style support to the use of portals is a great sign that an organization may see tremendous value with a status page since users are looking online for answers. It is important to remember that a status page should involve notification features to feed your users information on your organization. A push style method of emails / SMS / webhook services to notify users of downtime, future maintenance events or degraded service status will significantly reduce the number of inbound support calls/tickets.
Last, a status page should not cost you an arm and a leg and you should make sure that the features are worth the price that you will pay. A status page will typically cost an organization between $100 and $400 per month. The cost will be calculated by the number of subscribers you anticipate, the number of team members and which features you need within your solution.
Status Page Return on Investment
When considering any new software or service that carries a budgetary impact, the challenge is always justifying to your superiors that the value gained is worth the cost. This exercise typically involves a business justification, many meetings, and the ultimate financial approval. This process can be very tedious and stressful from start to finish but it doesn't have to be that way.
A status page is an easy service to justify within your organization and I am going to show you the direct return on investment you can expect from implementing a hosted status page. The data presented may not be indicative of your exact situation but it will give you a guideline to computing your own customer service ROI metric. The data we are using has been collected from many IT organizations to form the averages and approximations for the purpose of this example.
It is important to understand the components that a status page will bring into your organization and how these will affect your current support structure. A lot of organizations are failing at properly communicating outages. A status page service brings a whole new level of customer service to your organization and this should be factored into the ROI analysis.
Status Page ROI Case Study
Let's take a few moments to think about a typical IT organization and work through an easy customer service ROI analysis. For this exercise we will take a look at a sample company called Altair. Altair is a SaaS service provider with several product verticals in multiple industries. This company has 2,000 active customers in 5 countries around the world.
Now that we have the basis for our study we will take a look at the help desk statistics, as they are critical to helping us determine the ROI of a hosted status page. The help desk has the following metrics:
1,500 monthly support tickets
Tickets involve internal and external requests
Help desk has 10 technicians covering a 7 AM to 10 PM hours of operation
Help desk staff: 5 Tier 1 & 5 Tier 2
60% tickets are email and 40% phone generated
With these quick stats, we can now start to draw some financial conclusions based on the monthly volume and industry average salary data. In this case study, Altair staff is fielding around 600 phone calls for service each month and another 900 by email. The HDI salary survey let us know that the average salary for a tier 1 technician is around $45,000 and the average cost of a support call is around $20.
Using this data, we can assume the following:
Altair spends around $12,000 a month on support phone calls
Altair spends around $18,000 a month on email support
The cost rises dramatically if the tickets are escalated to tier 2 / 3 support
Now let's think about an incident or unplanned outage within the same organization. The data we were looking at before contained average monthly support data and metrics. However, Altair has been proactive and captures data during incidents and unplanned outages. During an average incident, Altair sees a dramatic spike in support calls and has collected the following data:
Average support tickets jump about 25% during an incident.
Technicians are busy answering calls and cannot work tickets
Customers are frustrated when waiting on hold in the phone queue

An incident is an organization's test of their customer community and will set the standard for the organization's support reputation. Altair realized that during an average incident, their tickets increased to 89 from the average 71 per day, costing the organization an average of $1,786 dollars to support the incident. This does not factor in the actual technical resources that were tasked with resolving the incident.
Altair analyzed this data and started looking for a solution to reduce support calls and to provide a higher level of service to their customers. They started looking at hosted status page providers that would fit their needs. They found several providers, compared features and determined their price based on their customer/user count. The average price for an organization their size was around $249 a month.
They looked at the cost of the incident and also computed the fact that they have on average 7 incidents a month. Altair also researched some statistics and found that by having an active status page they could see a 24% reduction in support tickets. As you can see in the chart below, having a status page would save them $3,000 a month and clearly cover the cost of the status page. We built an ROI calculator so you can input your own numbers and see how your scenario stacks up against Altair's.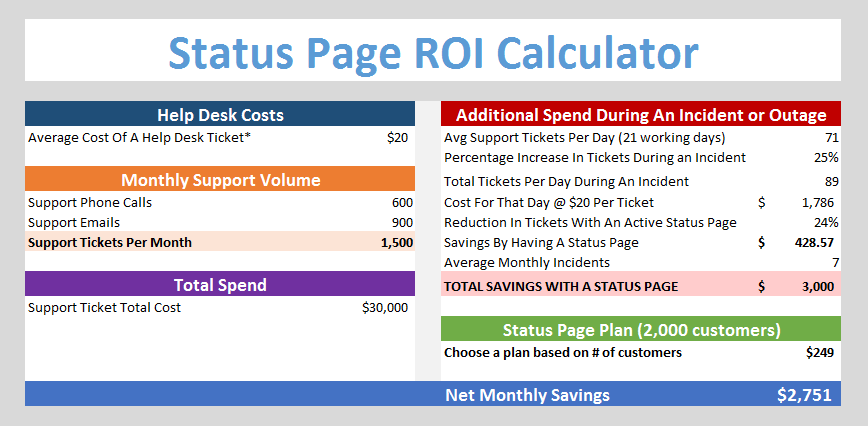 This was a no-brainer and they began their planned status page release. However, they were aware that they needed an effective communication strategy to direct their customers to a status page and if done right, the status page would provide a gold level of service to their customers, save the organization money and provide the technicians a reprieve. The communication strategy included placing a link to the status page from their actual support page. Some status pages provide widgets that indicate if there is a problem, further enhancing communication on key pages on a customer's site.
Status Page ROI and Your Organization
As you can see can see for a smaller organization, a status page can make a big difference. The single point of contact for your organization's services is critical and has become the new expected level of support. A status page is always on and always the source record when communicating status of your organization.
You were able to see how an organization like Altair was able to benefit from a status page and justify it financially with ease. This is an exercise that you can do for your organization that is sure to produce the same results. Imagine the ROI for organizations that have 30,000 customers as opposed to Altair's 2,000. The ROI is huge and the cost of the status page quickly becomes negligible.
When you are starting down the path to calculating ROI, you need to keep a few things in mind:
Average calls per month?
Impact of an incident or outage on your organization?
Your average technician salary?
Cost per month / year for a status page?
You can use this data to calculate the ROI that your customer service department would incur by implementing a technological strategy and share it with any decision makers. Now it's time to go out and find a service provider that has the price and all the features you need.